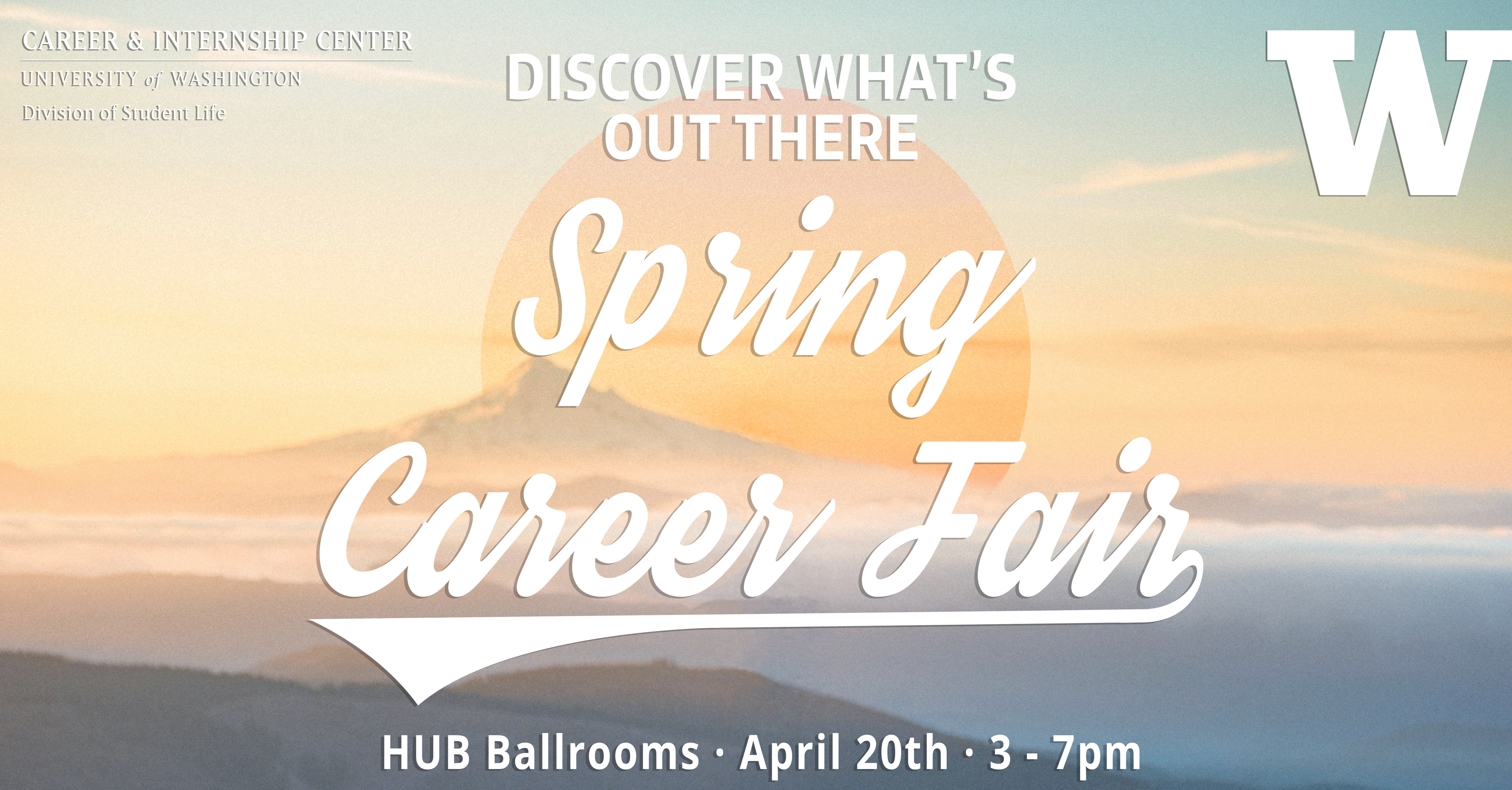 Are you looking for that perfect career position, summer job, or internship opportunity? Search no more! The annual Spring Career Fair–sponsored by the Career & Internship Center–will bring more than 140 employers to the Seattle campus who are looking to hire Huskies of all majors and class levels from all three UW campuses. This is a great opportunity that you definitely don't want to miss!
WHY YOU SHOULD ATTEND:
Your potential employers want to meet you IN PERSON. This is the best opportunity for you to make a great impression to the recruiters as many of the attending employers conduct follow-up interviews after the fair and/or participate in the On-Campus Interviews at the Career & Internship Center.
Recruiters hire students who attend fairs. The majority of the employers who attend our career fairs and complete our surveys indicate that they've extended offers to candidates they met at the fair.
Employers aren't just looking for programmers and accountants. Many employers who attended last year's Spring Career Fair were open to ALL MAJORS! DO use The Fairs App to find out what majors and positions attending employers are looking to recruit for at this fair.
Tips On How To Prep For The Fair:
Look at sample resumes in the Career Guide
Once you have your resume drafted, stop by for a Same-Day Session and/or ResumeFest to get some feedback on it
Submit your resume to the 2017 Spring Career Resume Book! Many attending employers have purchased access to this book in the hopes of identifying talented UW candidates. Whether or not you're attending the fair, don't miss this opportunity to stand out! Please see instructions below on how to submit your resume:

Login to your HuskyJobs account at https://c103-shib.symplicity.com/sso
From the "Documents" tab on the your left hand navigation pane, select "Opt-in Resume Books"
Select the DropDown menu under the Resume Book you'd like to submit your resume to

Take a look at the attending employers below using The Fairs App. Spend a few minutes researching the employers you are interested in meeting with by visiting their web sites and doing a quick review of them online. The list is updated regularly
Prepare and practice your introduction. What do you want the employer to know about you? Which of your skills and past experiences do you want to highlight?
Have a short 15-second "sales pitch" ready and make sure to develop some good questions of your own to ask the employer(s)
Attend the Career Fair Success workshop to learn how to prepare, what to bring, what to say, and how to follow-up
What You Should Wear:
Your style of dress may vary according to the type of field you're considering and the employers you plan to meet with. However, you'll find that most employers will be wearing business-casual attire, which is a safe bet for you as well. For example, consider wearing pressed slacks or a skirt with a blouse, sweater, or collared shirt.
The Day Of The Fair:
Bring 10-15 copies of your well-prepared resume to the fair
Greet employers with a smile and handshake
Collect business cards
Send a thank you note to employers you talked with
Lockers or storage facilities are not available; to increase the ease with which you can move through the fair, we recommend trying to minimize what you bring with you
Please bring your Husky card and have it ready for check-in purposes
ATTENDING EMPLOYERS:
Use The Fairs App to access information about the Spring Career Fair (attending employers, positions, position types, majors, and class levels employers are looking to recruit at the fair). The Fairs App is available to download to your iphone/ipad from the Apple App Store or from Google Play Store for Android phones
A special THANKS to our 2017 Spring Career Fair sponsors!
Friends of the DAWGS:



HuskyPups: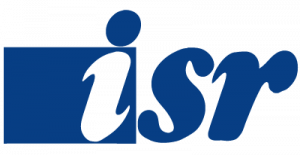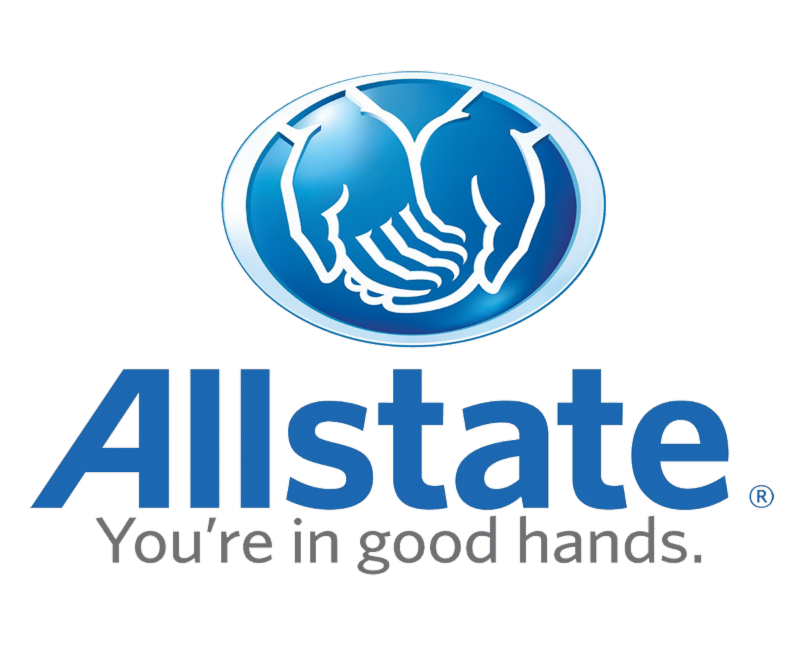 Attending Employers -Updated 4/18/17 
ABC Legal Services
ABMAddison Group
ABF Freight
Airgas
Airship Industries, Inc.
Allstate – Huskypup Sponsor 
Altec, Inc.
Ameson Foundation
AMP Services, LLC
Anderson Environmental Contracting, LLC
Anheuser-Busch
ASMLA
Associated Recreation Council
Automic Software
AXA Advisors, LLC
Barry-Wehmiller Design Group
Black Diamond Camps
Bloodworks
BridgestoneBrooksource
Buckeye International
C2 Education
CalPortland
Cambia Health Solutions
CampusPoint
Capgemini
Catholic Community Services
CBRE
CheckSum, LLC
Childhaven
City Year
CNSI
Collabera
College Nannies and Tutors
Community CareCommunity Psychiatric Clinic
Confluence Health
COPE Health Solutions
CrowdStrike Inc.
Discuss.io
D.R. Horton, Inc.
Dataminr
DESC
DSHS Children's Administration
EagleView Technologies
Edward JonesEfficient Era
Enterprise Holdings
Evergreen Treatment Services
Expeditors
Fast Enterprises, LLC
Fathom
Federal Deposit Insurance Corporation
Foresters Financial Service
Finity Group, LLC
Fred Hutchinson Cancer Research Center
Friends of Youth
Front Desk – Friends of the Dawg Sponsor 
G2 Web Services, LLC
GEICO
Gene Juarez Salons and Spas
Gensco
Grimco, Inc.
Hill Air Force Base
Infosys
Insight Global
International Community Health Services (ICHS)
International Systems Research Co.- Huskypups Sponsor 
King County
King County Housing Authority
King County Sheriff's Office
LaunchLindquist LLP
MAQ Software
Marriott
Medical Consultants Network
Micron Technology, Inc.
Molina Healthcare
National GEo
Navos
Neighbors Relocation Services
New Seasons Market
New York Life Insurance Company
NOAA Commissioned Officer Corps
Northwest Center
Northwestern Mutual
Open Window School
Pacific Capital Resource Group
Pacific Office Automation
Pan Pacific Hotel Seattle
Parametric
Parker, Smith & Feek, Inc. – Friends of the DAWGS Sponsor 
Peace Corps
PetSmart
PicMonkey
Plymouth Housing Group
Privateer Holdings
Prudential- Friends of the Dawgs Sponsor 
Puget Sound ESD
Red  Dot Corporation
Ryan Companies US, Inc.
Safe N Sound Swimming
Seattle Police Department
Seattle Sounders FC
Shaw Industries
Sound Transit
SpaceX
Spectranetix, Inc – Huskypups Sponsor 
StockCharts.com, Inc. – Huskypups Sponsor 
Streamline
Tacoma Community College
Tahoma School District
Tata Consultancy Services
Tavour
Teach For America
Techtronic Industries
Tesla
The Hershey Company
The North West Company
The Sherwin Williams Company
thyssenkrupp Elevator
Tommy Bahama
Travelers
Tyemill
Uniqlo USA
Universal Language Service
Universal American Mortgage Company
Urban Energy Group LLC
US Air Force
US Marine Corps
UW Human Resources
UW Medicine
Uwajimaya Inc
Valley Cities Behavioral Health Care
Virginia Mason Medical Center
Walmart US eCommerce
Washington State Department of Corrections
Washington State Department of Natural Resources
Wells Fargo Bank
Weyerhaeuser
WPAS, Inc.
Yakima Valley Farm Workers Clinic
YMCA of Greater Seattle
Questions? Please email Donna Chen at ccsevent@uw.edu
The Career & Internship Center wants you to have positive, productive and enjoyable experiences at our career fairs and special events!  If you encounter a recruiter or organization that makes you concerned or uncomfortable, please notify Career & Internship Center Employer Associate Director for Employer Relations, Emma O'Neill-Myers, immediately: econeill@uw.edu or 206.543.9109.Questions? Please email Donna Chen at ccsevent@uw.edu or call the Career & Internship Center at 206-543-0535