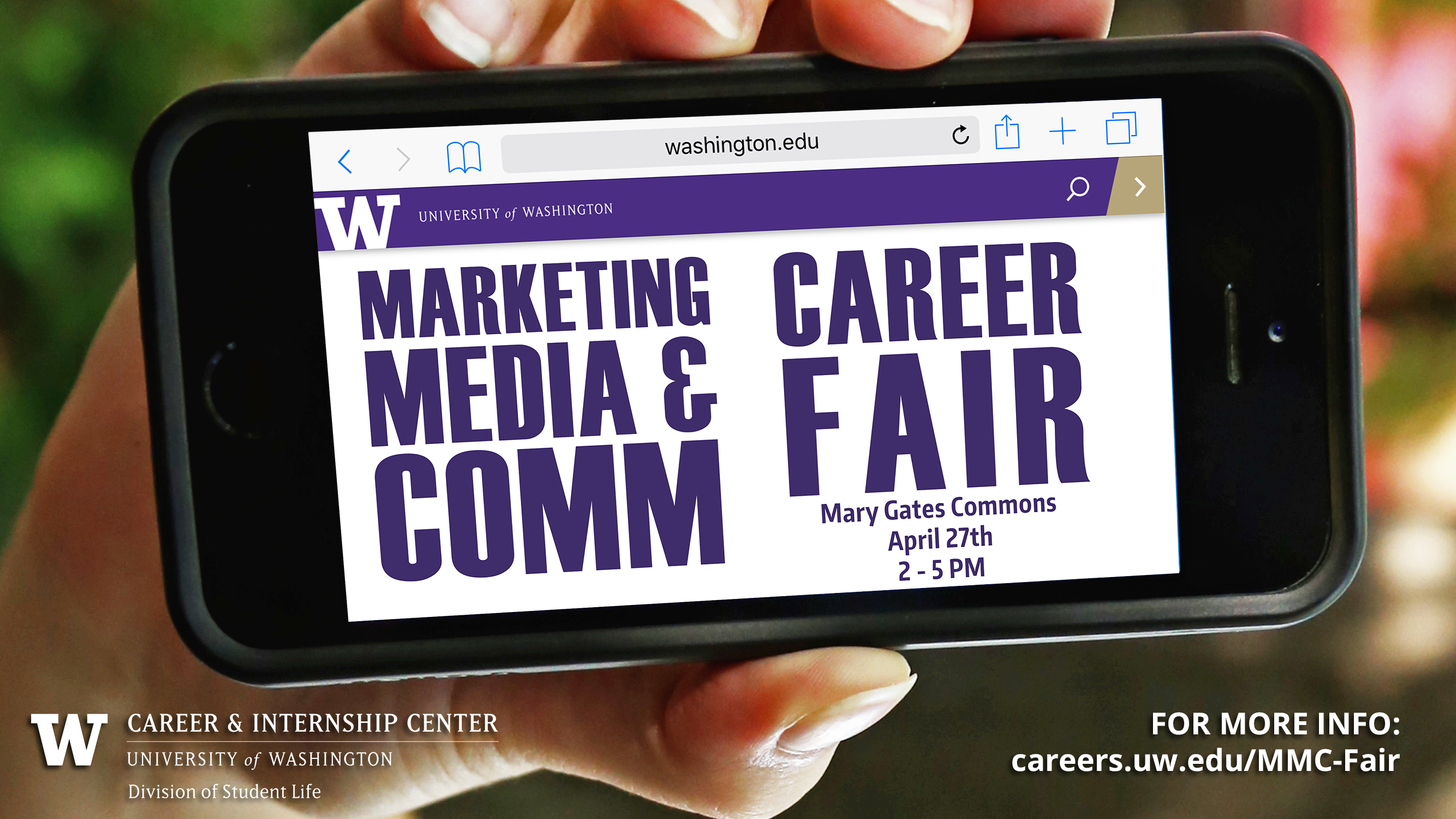 Are you interested in pursuing a full-time, part-time, and/or an internship opportunity in Advertising, Broadcasting, Journalism, Marketing, Public Relations, Publishing, Radio/TV / Film, or Social Media?  Don't miss out the chance to network with employers who are looking to hire HUSKIES at the 2nd annual Marking, Media and Communications Fair! This targeted fair will give you the opportunity to connect directly with recruiters from local and/or national companies who are looking to hire UW students for job or internship opportunities.
TIPS ON HOW TO PREPARE FOR THE FAIR
Look at sample resumes in the Career Guide and consider using resume help resources provided by the Career & Internship Center
Once you have your resume drafted, stop by for a Same-Day Session to get some feedback on it
Take a look at the attending employers list (see below) and spend a few minutes researching the employers you are interested in meeting with by visiting their web sites and doing a quick review of them online. The list is updated regularly
Prepare and practice your introduction. What do you want the employer to know about you? Which of your skills and past experiences do you want to highlight? Have a short 15-second "sales pitch" ready and make sure to build in some good questions of your own to ask the employer
Attend the Career Fair Success workshop to learn how to prepare, what to bring, what to say, and how to follow-up
WHAT YOU SHOULD WEAR
Your style of dress may vary according to the type of field you're considering and the employers you plan to meet with. However, you'll find that most employers will be wearing business-casual attire, which is a safe bet for you as well. For example, consider wearing pressed slacks or a skirt with a blouse, sweater, or collared shirt.
THE DAY OF THE FAIR
Bring 5-10 copies of your well-prepared resumes to the fair
Arrive early to interact with employers
Greet employers with a smile, handshake, and introduce yourself
Collect business cards
Send a thank you note to interested employers you talked with
Lockers or storage facilities are not available; to increase the ease with which you can move through the fair, we recommend trying to minimize what you bring with you
Please bring your Husky card and have it ready for check-in purposes
ATTENDING EMPLOYERS – List updated on 4/26/17. Please check regularly as we update the list frequently.
Class Level: BA, BS, MA, MS, MBA
Positions:Full-Time, Part-Time, Internship
Position Titles: Business Development Manager, Account Executive, Senior Account Executive, Marketing Director
2. Astavita Inc.:
Class Level: BA, BS, MA, MS, MBA
Positions:Internship- Paid 3 Months Internship
Position Titles: Electronic Marketing Specialist: Assist the marketing team to execute the following marketing strategies: E-Commerce platform, Google search campaign, Amazon sales and advertising campaigns, Search Engine Optimization
Class Level: BA, BS, MA, MS, MBA
Positions:Full-Time, Internship
Position Titles: Account Executive, Customer Service Rep, Marketing Events Trainee
Class Level: BA
Positions:Full-Time
Position Titles: Field Sales Representative for Sales Management Program
5. Campus Point:
Class Level: BA, BS, MA, MBA
Positions:Full-Time, Part-Time, Internship, Other- Temporary
Position Titles: Business Admin, Marketing, Communication Associate, Sales, Public Relations, and more!
6. CBS:
Class Level: BA, BS, MA, MS
Positions:Full-Time, Part-Time, Internship
Position Titles: Account Executives, Sales Assistants, Promotion Assistants, Digital Sales Executives
7. Collabera:
Class Level: BA, BS
Positions:Full-Time
Position Titles: Associate Account Manager
8. Computing Kids:
Class Level: BA, BS, MA, MS, MBA
Positions:Part-Time, Internship
Position Titles: Marketing assistant, Social Media marketing lead, Promotions/Events coordinator
9. Content26:
Class Level: BA, BS, MA, MS
Positions:Full-Time, Part-Time, Internship
Position Titles: Marketing Intern for Ecommerce Content Company, Search Engine Marketing Specialist, Search Engine Marketing Intern
10. Copacino + Fujikado: 
Class Level: BA, BS
Positions: Internship, Other- Informational PR
Position Titles: Winter Intern, Spring Intern, Summer Intern, Fall Intern, C+F Round Robin (event)
11. Dataminr:
Class Level: BA, BS, MA, MS, MBA, PhD
Positions:Full-Time
Position Titles: Domain Expert, New Grad
12. Edelman:
Class Level: BA, BS, MA, MS, MBA, PhD
Positions:Full-Time, Internship
Position Titles: Public Relations Intern, Assistant Account Executive, Account Executive, Senior Account Executive, Marketing Analyst, Graphic Designer, video producer, paid social media planner, Account Supervisor
13. Entercom Communications :
Class Level: BA, BS, MA
Positions:Full-Time, Part-Time, Internship
Position Titles: Street Team/Promotions Assistant (Part-Time) Night Personalities (Part-Time) Board Operator/Producer Internship – Marketing Internship – Production Sales Assisant (Full Time)
14. Health Perspectives Group:


Class Level: BA, BS, MA, MS, MBA
Positions:Full-Time
Position Titles: Advocate Engagement Specialist / Account Coordinator
15. Insight Global:
Class Level: BA, BS
Positions:Full-Time
Position Titles: Entry-Level Recruiter/Account Manager Position
16. Ipsos:
Class Level: BA, BS, MA, MS, MBA
Positions:Full-Time, Internship
Position Titles: Research Analyst, Senior Research Analyst, Account Manager,Senior Account Manager, Director, VP
17. KPTV-KPDX Broadcasting Corporation:
Class Level: BA, BS
Positions:Full-Time, Part-Time, Internship
Position Titles:Entry-Level Recruiter/Account Manager Position
18. National geospatial- Intelligence Agency:
Class Level: BA, BS, MA, MS, MBA
Positions:Full-Time
Position Titles: Multi-Media Specialist, Visualization Specialist, Advanced Visualization Specialist Editor
19. Nielsen 
Class Level:
Positions:Full-Time
Position Titles: Membership Sales Representatives
20. Nintex
Class Level: BA, BS, MA, MBA
Positions:Internship
Position Titles: Marketing Writer/Editorial Interns, Graphic Design Interns, Interactive Graphic Design Interns, Marketing Automation Interns
Class Level: BA, BS, MA, MS, MBA, PhD
Positions:Full-Time, Part-Time, Internship
Position Titles: Brand Ambassador, Marketing Manager- Entry Level
22. Peace Corps 
Class Level: BA, BS, MS, MBA, PhD
Positions:Full-Time, Internship
Position Titles: Peace Corps Volunteer, Peace Corps Response Volunteer, Campus Ambassador
Class Level: BA, BS, MS, MBA, PhD
Positions:Full-Time, Internship
Position Titles: Social/Infulencer Marketing, Social/Influencee Marketing Inter
24. PRR, Inc.:
Class Level: BA, BS
Positions:Full-Time, Internship
Position Titles: Project Coordinator Intern
25. RANDYS:
Class Level: BA
Positions:Full-Time
Position Titles: Sales Account Manager
Class Level: BA, BS, MA, MS
Positions: Full-Time, Part-Time, Internship
Position Titles: Field Sales and Marketing Representative
Class Level: BA, BS, MBA
Positions: Full-Time
Position Titles: Promotions Producer, Radio Promotion intern, weather intern
28. UW Marketing & Communications :
Class Level: BA, BS, MA, MS, MBA, Phd
Positions: Full-Time, Part-Time, Internship
Position Titles: Director, Assistant & Associate Director in the following areas: Brand Strategy, Creative, Strategic Communications, and Operations Designer, Copy Writer, Video Producer, Web Developer, Events

29. Vivial Media LLC. :
Class Level: BA, BS, MA, MS
Positions: Full-Time
Position Titles: Digital Media Sales Representative, Advertising Technology Sales Representative
30. Workhouse Creative Inc. :
Class Level:
Positions:Internship
Position Titles: Unpaid Internships
31. YMCA of Greater Seattle :
Class Level:
Positions:Part-Time, Internship
Position Titles: Marketing Intern