Read the full article by Nicole Reeve-Parker on the WholeUW website. Start reading below to learn more about George's path as an undergrad in political science to his role now as a researcher with the College of Built Environment…
---
"George Thomas Jr. first became interested in salmon when, as a student at Indiana University at Bloomington, he was recruited from an introductory stream ecology course to spend the summer on the Olympic Peninsula assisting a team of researchers studying coho salmon habitat.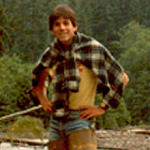 Working among tributaries feeding the Queets River the summer before his sophomore year, deep in a glacially carved rainforest valley populated by Sitka spruce and bigleaf maples, George developed an enduring appreciation for and interest in the ecology of the Pacific Northwest—particularly the effect of human industry on native salmon species.
"It was my first exposure to the Pacific Northwest, free-flowing mountain streams and rivers, and salmon," he wrote.
But the Pittsburgh native wouldn't return to the Pacific Northwest for many years, when he left a career as a journalist in New York to take a position in consumer marketing at Microsoft, later moving on to another area giant, Amazon. He loved the area, but the work—not so much.
"I was at a point where I didn't feel like I needed to help Microsoft sell more software or Amazon sell more stuff," he said. "I figured being in an academic environment would be more fulfilling, even if I wasn't necessarily in an academic role."
George joined the UW as web manager for UW Human Resources in 2017, where he quickly rekindled his interest in environmental affairs through the tuition exemption program, which allowed him to take classes in oceanography, atmospheric sciences and fisheries.
"I probably wasn't even working here a week when I asked my manager if she cared if I logged in from south campus so I could sit in on an oceanography seminar," he recalled. "Of course, she didn't mind. That's what's great about the working environment at UW—it's about personal growth."
He would eventually earn a Master's in marine affairs degree from the UW School of Marine and Environmental Affairs (SMEA), participating in a capstone project that focused on salmon habitat restoration on the Duwamish River—more than two decades after that first momentous salmon encounter as an undergraduate.
A two-decade detour
Although he greatly enjoyed the stream ecology course and other environmental science classes as an undergraduate, George ultimately majored in political science and communications with a minor in English. He was idealistically drawn to journalism and wanted to make his voice heard…