Read the full article by Nicole Reeve-Parker to learn about even more opportunities to get involved. There are about twice as many opportunities listed on the website!
Get outside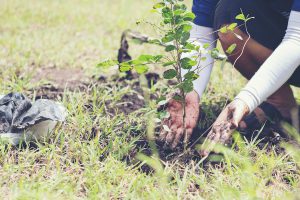 Washington Trails Association offers a variety of opportunities, from local one-day work parties to multi-day volunteer vacations, working to restore and maintain our state's public lands.  
In an effort to make all 2,500 acres of Seattle's parkland healthy and accessible to all, Green Seattle Partnership offers a variety of local restoration, reforestation and work parties every week with over 1,500 events a year at 155 area parks.  
Want to plant trees? Seattle's Tree Ambassador program engages volunteers in leading educational tree walks, hosting tree stewardship events and planting trees with the Trees for Neighborhoods program.  
Shark Garden: Located in White Center, just south of Seattle. This garden provides learning opportunities for students in the Highline School District and provided more that 2,500 pounds of food to the White Center Food Bank in 2021. Volunteer help with garden maintenance, harvesting food for the food bank, construction projects, teaching classes, and more.
Use your skills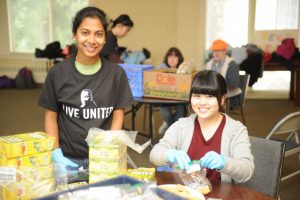 Record yourself reading stories for kids! Neighborhood House seeks volunteers to read a favorite children's book on video to be shared with participating families. Volunteers who speak other languages are especially needed.  
Create fun DIY displays at a local Habitat for Humanity store – it's not all hammers and nails. Want to build? Project sites are now accepting volunteers in Lake City and Renton for individuals and groups.  
Cookies baked with love is a program for volunteers to bake cookies at their home for Recovery Café members attending a monthly resource connection day at the new South Lake Union café. This monthly event offers a variety of other opportunities as well.  
Bake bread at home for Community Loaves, a grassroots community bread brigade supporting local food banks with fresh and nutritious home-baked bread.  
Do you enjoy cooking? Use your skills to provide healthy, delicious dinner for young people in need at YouthCare. Cook at home and drop off the food so youth can get the nutrition they need before they go to work or school the next day. This can be a one-time opportunity, or you can deliver food on a regular basis.
Seattle World School is looking for volunteers to tutor immigrant and refugee students during and after school. Students range from K-12 and subjects tutored include English, math, science, social studies, etc. SWS also needs volunteer field trip chaperones and gym and sports safety assistants.
Seattle Recreative collects donations of used materials that can be used for crafting and art that would otherwise end up in a landfill from local businesses and individuals to redistribute to our community through a retail store and classes. Proceeds from the resale of these goods helps fund our arts programming and supply free creative materials and workshops to the community. Volunteers help sorted donated crafting supplies, prep supplies for classes, and other projects needed that day.