What Does a Day in the Life of a Communications Specialist Look Like? was originally published on WayUp.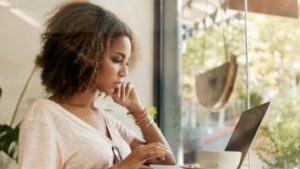 From writing press releases to organizing events, communications specialists enjoy a lot of excitement in their day-to-day work. If you're thinking of working in communications, you might be wondering what a day in the life of a communications specialist looks like: Is it mostly responding to media enquiries or are you more likely to attend a lot of meetings? The answer depends on your specific role. However, although the tasks might vary from one day to the next, most communications specialists do a combination of the following things:
Responding to media enquiries
One of the key aspects of a communications specialist's job is to respond to incoming media enquiries. This can include setting up interviews between journalists and people at the company or handling questions about a potential company problem. Whatever the case, communications specialists are responsible for always putting their best foot forward and always acting with the company's best interest in mind.
Crafting press releases and other types of content
From press releases to weekly internal newsletter, communications specialists are in charge of creating various types of content while ensuring that messaging is consistent across all channels and in line with the company's communication policies. Because of the importance of these materials, communications specialists often spend a large part of their day writing and editing content and sharing it with different audiences such as the media or the company's clients
Meeting with teams within the company to provide communications training
For those communications specialists who focus on internal communication (or those with hybrid internal and external roles) providing communications training is another important part of the role. This includes ensuring that employees are aware of key phrases the organization uses when referring to itself, that they understand the importance of an integrated communications strategy and are able to represent the company in the best possible light when talking to customers or members of the public.
Organizing events
Another important part of a communication specialist's day is organizing events. These events can range from fundraisers hosted by the company on behalf of a charity and public events designed to build relationships between the company and their customers. Above all, communications specialists are responsible for ensuring that these events are covered by media outlets and that the generate positive buzz around the company.
A diverse and exciting career, communications offers a lot of opportunities for growth while giving you the skills you need to succeed in your role.
The post What Does a Day in the Life of a Communications Specialist Look Like? appeared first on Career Advice & Interview Tips | WayUp Guide.