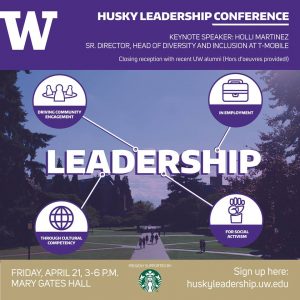 It is very likely that at least once during your time at the University of Washington, you have been encouraged to pursue leadership opportunities. But what does leadership really mean and what does it look like in your every day life? Leadership is much more than a position title or a role in a student organization. Join the Husky Leadership Initiative for a free conference on Friday, April 21, from 3:00-6:00pm to learn about and build leadership skills in whatever context speaks to you.
This year's conference will focus on helping you develop knowledge, skills and attitudes to be an agent of change in your everyday life, but specifically related to cultural competency, work and employment, community engagement, and social activism. The free event will kick off with a keynote address from Holli Martinez, Sr. Director, Head of Diversity and Inclusion at T-Mobile, and then you will have the chance to attend several breakout workshops addressing leadership in these four areas.
Stay until the end for a closing reception (with free food!) where you can mingle with 20+ recent UW alumni to ask questions about what leadership has looked like for them beyond the UW.
Register now, and check out the Husky Leadership Initiative website for full session descriptions and information.
Where: Mary Gates Hall
When: Friday, April 21 from 3:00-6:00pm
Keynote address: 3:00 p.m.
Breakout session 1: 3:35 p.m.
Breakout session 2: 4:05 p.m.
Breakout session 3: 4:35 p.m.
Closing reception with alumni (free food and raffle drawing): 5:00 p.m.