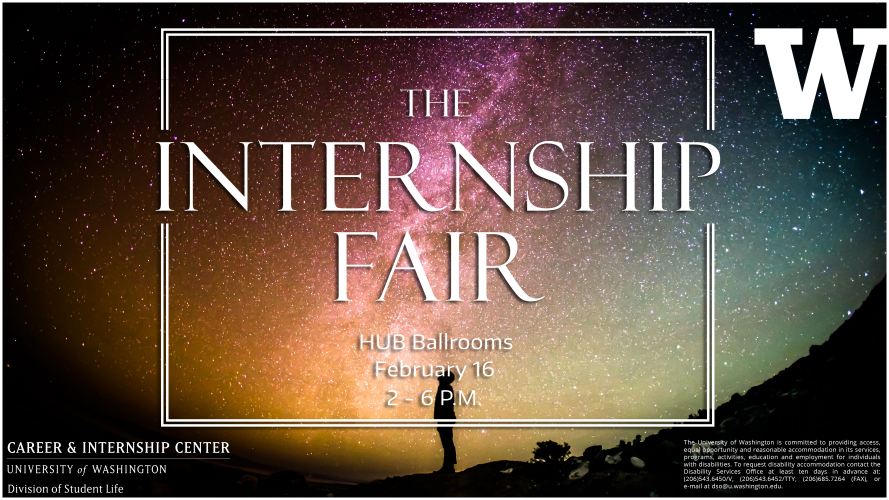 Are you looking to find an internship opportunity? Search no further! The Career & Internship Center's Internship Fair is a great opportunity for students of all majors, class levels, and from all three UW Campuses to connect with  corporate, small business, non-profit and government employers who are all looking for Huskies, like YOU, to fill their internship needs. Don't miss out on this perfect opportunity!
Tips On How To Prep For The Fair:
Look at sample resumes in the Career Guide
Once you have your resume drafted, stop by for a Same-Day Session and/or ResumeFest to get some feedback on it
Submit your resume to the 2017 Internship Fair Resume Book! Select employers have purchased access to this book, in the hopes of identifying talented UW candidates. Whether or not you're attending the fair, don't miss this opportunity to stand out! Please see instructions below on how to submit your resume:

Login to your HuskyJobs account at https://c103-shib.symplicity.com/sso
From the "Documents" tab on the your left hand side navigation pane, select "Opt-in Resume Books"
Select the DropDown menu under the Resume Book you'd like to submit your resume to

Take a look at the attending employers (below and using The Fairs App)  and spend a few minutes researching the employers you are interested in meeting with by visiting their web sites and doing a quick review of them online. The list is updated regularly
Prepare and practice your introduction. What do you want the employer to know about you? Which of your skills and past experiences do you want to highlight?
Have a short 15-second "sales pitch" ready and make sure to build in some good questions of your own to ask the employer
Attend the Internship Fair Success workshop to learn how to prepare, what to bring, what to say, and how to follow-up
What You Should Wear:
Your style of dress may vary according to the type of field you're considering and the employers you plan to meet with. However, you'll find that most employers will be wearing business-casual attire, which is a safe bet for you as well. For example, consider wearing pressed slacks or a skirt with a blouse, sweater, or collared shirt.
The Day Of The Fair:
Bring 10-15 copies of your well-prepared resume to the fair
Greet employers with a smile and handshake
Collect business cards
Send a thank you note to interesting employers you talked with
Lockers or storage facilities are not available; to increase the ease with which you can move through the fair, we recommend trying to minimize what you bring with you
Please bring your Husky card and have it ready for check-in purpose
ATTENDING EMPLOYERS:
Use The Fairs App to access information about the Internship Fair (attending employers, positions, position types, majors, and class levels employers are looking to recruit at the fair). The Fairs App is available to download to your iphone/ipad from the Apple App Store or from Google Play Store for Android phones


ADW/Acosta
 angelMD
Airport Jobs/Port Jobs
Altavair AirFinance
Amazon
Ancestry
Aquor Water Systems
Associated Recreation Council
Automic Software
BDA, Inc.
Bloodworks
BMF WA
Buckeye International Inc.
BudiganLaw Firm
Carlisle Interconnect Technologies
CascadiaNow!
Comcast
COPE Health Solutions
Core Spaces
Cumming Corporation
DaVita
Defense Contract Audit Agency
Distilled
E&J Gallo Winery
Easterseals WA – Camp Stand By Me
eBay
Eli Lilly and Company
Enterprise Holdings
Everett Housing Authority
FIAlab Instruments Inc
Foreign Language for Youth
GEICO
GoDaddy
Graybar Electric Company, Inc.
Greystar
Group Health
Habitat for Humanity of Snohomish County
Healthcare Management Administrators (HMA)
iD Tech
International Systems Research Co.
Jive Software
KEXP
KeyBank
King Co Metro Transit
King County Finance
Liberty Mutual
Limeade
Macy's Inc.
MCG
Modumetal, Inc.
Neighbors Relocation Services
New York Life Insurance Company
Northwestern Mutual
NoSchoolViolence.org
PACCAR Inc.
Pacific Capital Resource Group
Pacific Office Automation
Pactera Technology
Parametric
Peace Corps
PEMCO Insurance
PepsiCo
Philips Healthcare
Port of Seattle
Positive Behavior Supports Corporation
Premera Blue Cross
Privateer Holdings (Can't Make It)
PRR, Inc.
Reynolds American Inc
Ross Stores, Inc.
Samsung Electronics America
Save the Children Action Network
Sea Mar Community Health Centers
Seafair
Sears Holdings Corporation
Seattle City Light
Seattle Goodwill
Seattle Municipal Court
Security Industry Specialists, Inc.
Senator Maria Cantwell
Slalom
Snap Raise
Spectranetix, Inc
Sprint
SR³ – Sealife Response, Rehabilitation & Research
Stone Soup Theatre
Target
Teach For America
Team Survivor Northwest
The Community (Can't Make It)
The Sherwin Williams Company
T-Mobile
T-Mobile
Trupanion
Tyemill
Tyler Technologies
United Way of King County
US ARMY
US NAVY RECRUITING SEATTLE
UW Career & Internship Center
UW College of Arts & Sciences
UW Fiddleheads Forest School
VECA Electric
Visa Inc
Vulcan Inc
West Monroe Partners
Whitmire & Associates, LLC
YMCA Greater Seattle

 Questions? Please contact the events coordinator, Donna Chen at ccsevent@uw.edu or call 206-543-0535.

The Career & Internship Center wants you to have positive, productive and enjoyable experiences at our career fairs and special events!  If you encounter a recruiter or organization that makes you concerned or uncomfortable, please notify Career & Internship Center Employer Associate Director for Employer Relations, Emma O'Neill-Myers, immediately: econeill@uw.edu or 206.543.9109.